The Fringe is back, and that means Fringe Reviews are back!
You can count on PodSask to review all of the Saskatoon Fringe Festival's 18 main-stage shows. Here's the third and final round of reviews!
Fringe Reviews Part 1 can be found here.
Fringe Reviews Part 2 can be found here.
---
Gingy Saves the Day
What we loved: There's always a little trepidation when it comes to reviewing a show targeted at audiences multiple decades younger than you — but it would be a lie to say this wasn't a fun time.
Local children's performer Captain Orange (Mike Diakuw) masterfully led an audience of children and parents through 40 minutes of music, puppetry and wisecracks. The story was a wholesome adventure about Gingy the gingerbread man learning to take responsibility for his actions and being caring to his best friend Bear.
The show feels like your favourite Saturday morning cartoon. There's fun characters, great voices, and some brilliant puppet work both of the shadow and the physical variety. It never feels patronizing, never leaves out any of the kids and keeps everyone excited and entertained.
Captain Orange does a great job controlling the room full of children, and by the end of the show it was the oldest kids who were the loudest and most invested in the storytelling. And the live music provided by Captain Orange's brother James Diakuw added a great touch to the theatrics.
What we didn't love: The show rolls along at a good clip, but it does feel like it could continue on a little further than it does and get the kids more directly involved.
And while the music and musical effects are a delightful touch to a live show, the lyrics of the sing-along song moved way too quickly for any of the children to be able to catch on and join in with the time they had.
Verdict: Sweet as a cookie and as fun as any game of make-believe, "Gingy Saves the Day" is a top-notch Fringe children's show by a performer who brings obvious experience to the table. If you're looking for a play for the little ones, this is a great place to start.
Rating: ★ ★ ★ ★ ✩
– Matt Olson
***
Witch Hunt: The Musical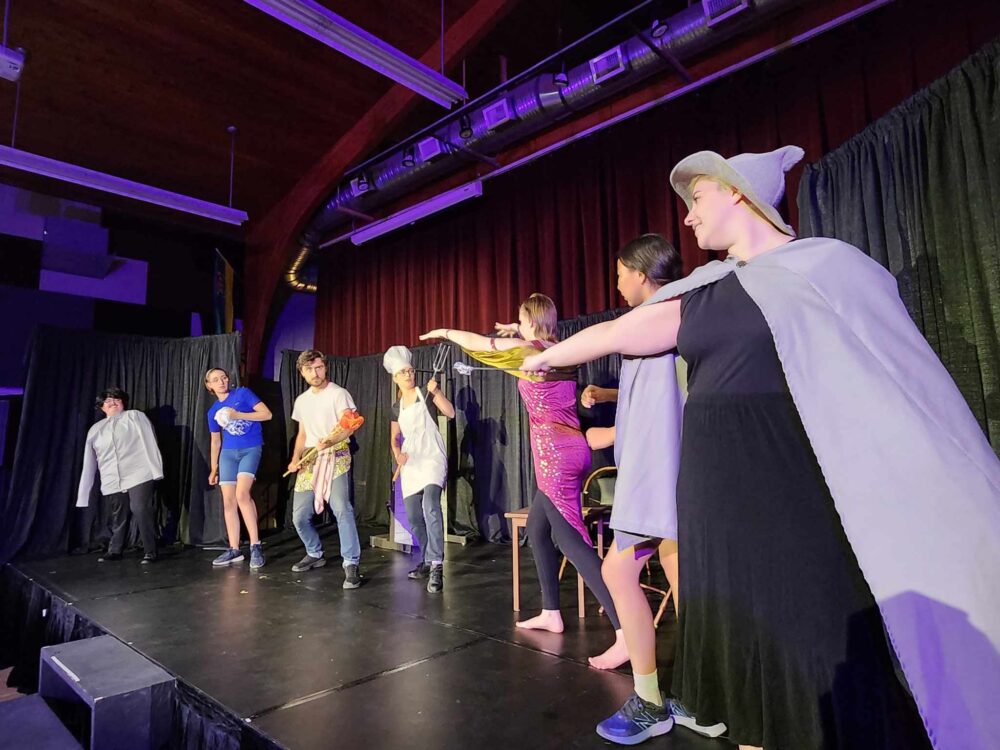 What we loved: When Roger Newsman uses his platform to incite his loyal viewers into taking part in a literal witch hunt, Sydney and Agnus must determine what is real, and what is fake news.
Year after year, Shadow Players delivers enjoyable and energetic children's theatre to those seeking it out at the Saskatoon Fringe. Packed with multiple set pieces, and genuinely clever jokes and commentary, "Witch Hunt: The Musical" makes for an enjoyable 30 minute romp, if you want to entertain your little ones.
Kay Bettin puts in a high energy, and entertaining performance in their role as Roger Newsman. Once the show begins they act as a walking allegory for the deeper themes of "Witch Hunt": the dangers of prejudice and groupthink. It is easy, when putting on a children's show, to ignore the finer aspect of scriptwriting, but Witch Hunt follows through on imparting its moral message, and it does so in a charming fashion.
What we didn't love: There was a moment in the first half of the show, where the kids in the audience were asked to look under their chairs for water to assist the characters in putting out the fire. This excited the younger audience, to the point where it was clear that the children would have loved to participate further, but there seemed to be very little else.
The set design also seemed half-finished at times. One scene had an impressive display of a burning building, which raised my expectations for the next set piece, but in the next scene the stage was empty.
The longer musical numbers, despite being well performed by Aneurin Sheasby and Julia Macpherson, seemed to exist only to pad the runtime rather than add substance to the play.
Verdict: "Witch Hunt" is a cute show with energetic performances. It uses up its best ideas in the first half of the runtime, but it still manages to be engaging and fun.
And c'mon, at the end of the day, we know why you're watching "Witch Hunt." Your kids are going to have a great time, and that's what matters.
Rating: ★ ★ ★ ✩ ✩
– Connor Brousseau
***
Bent Compass
What we loved: A frank and honest conversation about how experience influences perspective, from the point of view of a US Army medic.
The experiences don't belong to the performer of the one-man show, but Neil Brookshire collaborated with Army medic Colin Sesek to create it.
The result is an exploration of what constitutes normal through the lens of a soldier, from a new recruit to a seasoned veteran to a teacher after his deployment is finished. Brookshire retells the experiences in a blunt and conversational way that makes every story hit home a little harder — when someone discusses brushes with death in the same tone you'd discuss the weather, one can't help but be affected.
Brookshire sprinkles in verses from poetry and Shakespeare, which adds beautiful punctuation to the heavy and hectic show. As we see this Army medic transform from a rookie into a jaded and experienced soldier, we almost live in each moment with him as danger and death become the new normal.
If the goal was to bring some truth and humanity to the experiences of those who have served, it's a job well done indeed.
What we didn't love: It's a fast show, but not a short one. The long-running monologue from Brookshire flicks past without much time for contemplation or reflection, and that's a detriment to the audience. The benefit is the show is jam-packed with true anecdotes from start to finish.
The show begins with the framework of a teacher (the former soldier) talking about a student who threw a punch in school, and how he can understand where that kid is coming from. It's a beautiful device to bring the story down to earth, but it sort of falls by the wayside until near the end of the show.
Verdict: A powerful example of documentary-style storytelling, Brookshire and Sesek have built an incredible piece that highlights Sesek's experiences in a stark and vulnerable fashion. In a Fringe full of storytelling shows, this one carves out a unique and worthy niche — it's definitely one to see.
Rating: ★ ★ ★ ★ ✩
– Matt Olson
***
Mistress Revenge / Lady Virtue
What we loved: A unique lens to view one of Shakespeare's lesser-known plays, this locally-produced show takes a hard look at a number of feminist issues.
"Mistress Revenge / Lady Virtue" is written by Saskatoon's Erin Brophy. A sort of spiritual sequel to Titus Andronicus, the show examines the violence of one of the Bard's most graphic plays through the experiences of Tamora and Lavinia, two women slain in the play's final moments.
It's an innovative way to explore themes of misogyny and violence. Brophy's script uses Tamora and Lavinia's fates to highlight the lack of control provided to these women, and how their fates were not their own to dictate. We get a fascinating glimpse into the minds of characters who were set aside for and by the men in the plot, opening up new ways to explore and interpret Shakespeare's work.
The set is beautifully crafted for the Fringe show, and the ambience generated at The Refinery was perfect for this production.
What we didn't love: It's unquestionable that this show takes on a number of highly important topics, like a dominating patriarchy, violence against women and the silencing of women, and cultural oppression. Trying to fit all of these into 60-ish minutes, however, is an impossible task. 
Tamora and Lavinia are far too often in static positions on stage, exchanging thick and literary dialogue. It would have given the messages of the show more teeth if the focus was sharper. It's hard to criticize ambition, but one show is not going to be able to thoroughly address every topic.
Also — Titus Andronicus is not one of Shakespeare's better-known works, and if you're unfamiliar with that show you're going to be lost in key moments of this one. Shakespeare doesn't exactly treat women well across many of his tragedies, and there are more well-known shows to pick from as a vehicle for these messages.
Verdict: "Mistress Revenge / Lady Virtue" is chock-full of powerful messaging, and it's a strong voice advocating for feminism. It's also stuffed with dense dialogue and a framing device that — while undeniably clever — doesn't lend itself to accessibility. With a few edits to this script, it could be a more powerful play.
Rating: ★ ★ ✩ ✩ ✩
– Matt Olson
***
Brown Wasp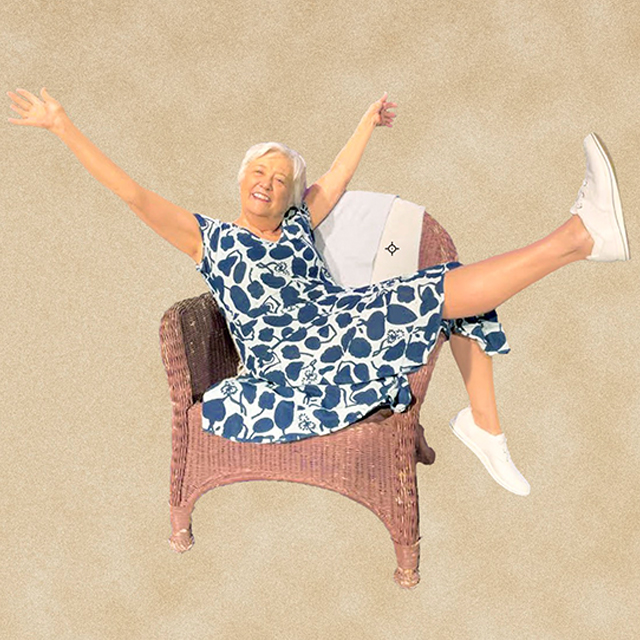 What we loved: After a troubling diagnosis, Sarah St. John travels to Saskatchewan in an attempt to find a "cure for whatever ails her". Any further revelation of the plot would be a disservice to those who have yet to experience the show for themselves.
Meah Martin's script moves along at a comfortable pace, glancing across comedic detours, and allowing the poignant moments to sink in. "Brown Wasp" never overstays its welcome, and when the lights went black at the end of the play, the audience was shocked at how quickly 50 minutes had passed.
Megan McArton, starring as St. John, captivates the audience within her first moments on stage. McArton brings a warm presence and a sharp wit to her storytelling, and her ability to deliver laugh-out-loud moments followed immediately by sobering realities is nothing short of masterful. McArton connects with the audience in a way that few performers can – earnestly inviting you into the messily beautiful intricacies of St. John's life with ease.
Playwright Meah Martin is no stranger to the Prairies, as she uses them as a backdrop in most all of her plays. There is a sense of comfort and familiarity in the prose she uses to describe them. Martin, after the curtain fell, confided that this run of "Brown Wasp" is the first time any of her plays have been staged in Saskatchewan. In a touching instance of art imitating life, it is powerful to bear witness to this invisible force drawing Martin, and her character in St. John, back to Saskatchewan.
What we didn't love: Apparently the announcement at the beginning of the show, requesting that the audience turn off their cell phones, was far too complicated for two of the audience members (Perhaps theatre companies should start using visual aids?). The text messages that interrupted the show were the only moments that pulled me out of the web that Martin and McArton so brilliantly weaved.
Verdict: "Brown Wasp" expertly utilizes the artform of the one-hander, in a way that invites you close, and never becomes stale. The set, sound and lighting design only serve to bolster an impeccable script and an incredibly charming and thoughtful performance.
It is impossibly easy to recommend "Brown Wasp." A prolapsed uterus has never been so shockingly hilarious.
Rating: ★ ★ ★ ★ ★
– Connor Brousseau
***
Secret Saloon
What we loved: Secret Saloon promises an improvised musical journey inspired by an interview with a local queer artist: in this performance, the artist was Stony Mac.
Islay McKechnie and Ciarán Volke are clearly comfortable on stage together. There is a great deal of trust between one another, and it is apparent that they are having a great time. The pair are accomplished musicians as well, and several moments in their musical numbers showcased their impressive range and skill.
The interview preceding the play was the highlight of the performance. As someone with little knowledge of the drag scene in Saskatoon, the opportunity to hear even a brief snippet of this performer's story was enlightening and quite moving.
What we didn't love: While watching, it began to feel as though Secret Saloon has a very detailed blueprint which is followed to the letter. The placement of the musical numbers, and the framing of the storytelling lacked the spontaneity that makes for enjoyable improv. Additionally, the western motif begins and ends with the costumes McKechnie and Volke wear, with music ranging from modern four chord songs, to an experimental looped vocal performance.
Humour is subjective, and judging by a portion of the crowd's response, it worked for some. Many of the attempts at comedy felt as though they were inside jokes, not meant for a broader audience outside of an insular friend-group. Watching the performance was reminiscent of attending a large party, and uncomfortably trying to fit in because none of your friends showed up.
In a heartwarming portion of the interview, Stony Mac revealed that he recently underwent gender reassignment surgery, and as a result, he finally feels comfortable in his own body. This charming moment became a joke later in the play: with a character comparing gender dysmorphia to the wish that they were a different height. Coming from a queer friendly theatre troupe, this joke attempt was perplexing. Hopefully Stony Mac was one of the audience members who was laughing.
Verdict: Long-form improv is a difficult artform to master. What works one night, may flop the next. While McKechnie and Volke fail to reach the comedic heights of Middleditch and Schwartz, the musical additions and the focus on local queer artists were a welcome change-up.
It is entirely possible that this specific performance was weaker than most. If you're a fan of long-form improv, give this a shot.
Rating: ★ ★ ✩ ✩ ✩
– Connor Brousseau
***
The Saskatoon Fringe Festival runs from August 3 to 12. Information for all shows, tickets, and the full festival program can be found at 25thstreettheatre.org/saskatoon-fringe/.