The Fringe is back, and that means Fringe Reviews are back!
You can count on PodSask to review all of the Saskatoon Fringe Festival's 18 main-stage shows. Here's the first batch!
---
The Barn Identity
What we loved: The soul of Fringe theatre is creativity and innovation, and Erika MacDonald's show has fun ideas to spare.
As MacDonald says repeatedly during the show, it's all about "falling-down barns" — which, without spoiling too much of the content, is MacDonald's metaphor for the mental health issues she's dealt with in her lifetime.
We want new and thought-provoking when it comes to the Fringe, and MacDonald's storytelling is precisely that. She leads the audience skillfully through a string of childhood stories and life choices before culminating in her heartwarming conclusions about managing mental health. It's like a long, soft life lesson delivered by a most charming speaker.
Paul Strickland's guitar accompaniment and MacDonald's effortless hitting of beats both musical and dramatic in time with the guitar added a fun depth to the otherwise one-woman show.
Also — she's a great singer, but we don't get to appreciate it until the very end.
What we didn't love: It takes about two-thirds of the show for the audience to really get anywhere in this storytelling — and while there's something to be said for drawn-out surprises and payoffs, that strings things out a bit too long.
The childhood stories MacDonald shares, while cute, take a substantial amount of time to pay off — and when they do, it might not be in the way anticipated. MacDonald's anecdotes are lovely and whimsical and give us a glimpse into her mindset, but they drag a little bit somewhat.
The audience participation was also a bit much. We had some creative elements (like repeated recordings of MacDonald's own voice and her small model barn) that came to really thoughtful conclusions, but an interlude that required the audience to get involved just interrupted what was becoming a really compelling story.
Also — she's a great singer. Why don't we get to appreciate it until the very end?
The verdict: A show chock full of the kind of fun and fresh ideas that make Fringe theatre better. She might not stick every landing, but you'll be hard-pressed to find a performer with as much heart as Erika MacDonald.
Rating: ★ ★ ★ ✩ ✩
– Matt Olson
***
Actually UnFactual: Funny Fictions by Paul Strickland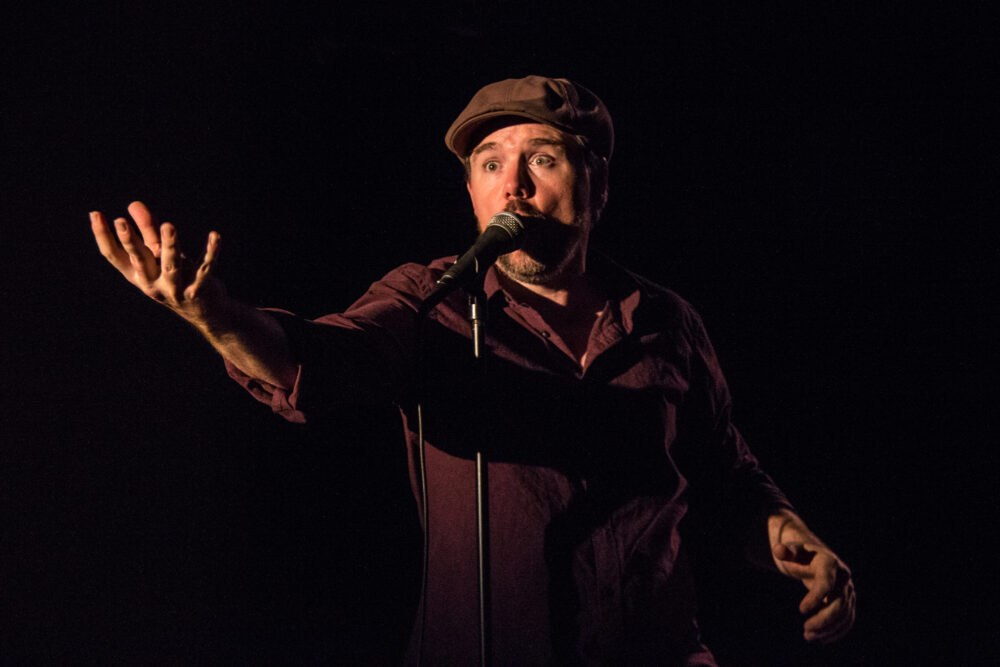 What we loved: Engaging, captivating, and somehow familiar – not unlike an uncle, aunt, grandparent, or elder we had spent time with by a campfire or the kitchen table when we were younger. Paul Strickland captured us as we hung on every word. Time passed with ease as he weaved tales that delighted and entertained us through slightly twisted, fictitious, fact-based fairy tales and other believable, unfactual stories.
Many dread audience participation. Resetting the stage off the top of the show using the nearby movable staircases to create a makeshift platform almost seemed a deliberate attempt to distract us as he taught us the chorus to his first song.
Strickland's buttery voice and skillful guitar riffs showed his competence as a singer and songwriter and compelled us to join in. Any introverted thoughts of being an observer and not a participant melted away. We enjoyed the experience, forgetting the traditional fourth wall that protects us.
Strickland is a true performer. He is unafraid to poke fun at his mistakes, minor technical glitches or even at the audience when a nuanced joke soars well above their heads. He can seamlessly switch between characters in his story, and his quick wit and clever puns leave no moment without potential hilarity and laughter.
What we didn't love: It's more like "what we wished we could have more of" – his songs. But as it's said, always leave your audience wanting more. Strickland could have continued his stories and songs for hours, to the audience's delight.
To a lesser extent, starting the show late due to a scheduling conflict and technical glitches did not detract from the overall experience and is almost to be expected on opening night. All is forgiven with a performer who releases the tension when he steps on stage.
Verdict: Be sure to attend this show. Strickland guarantees different stories and songs every time he steps on his newly minted "stair stage." It is well worth the time and price of admission to watch Strickland regale new and old tales with unfactual facts and fiction.
Rating: ★ ★ ★ ★ ★
– Shaun Bzdel
***
Bugs in Amber
What we loved: A theatre company by young performers, for young performers is a beautiful thing.
Rogue Souls Productions is, according to the Fringe website, a theatre company "founded and managed exclusively by youth." And their show Bugs in Amber is a clever idea — verbatim theatre exploring the lives of those people who devoted themselves to studying fossils and in turn preserved themselves in our history.
The premise is interesting and the group is comprised entirely of young performers stepping up onto a big stage. Kudos to these growing actors for their bravery and their risk-taking with an original idea and an original script, which is what the Fringe is all about.
There were a few standout moments — the performers who had monologues as former president Thomas Jefferson and pioneering fossil researcher Mary Anning probably had the most — in a young ensemble cast.
What we didn't love: Bugs in Amber lacks polish, to a considerable degree. It's hard to point the finger at young performers for a lack of polish (because how else do you gain polish besides experience?), but in comparison to other Fringe shows Bugs in Amber just isn't quite there yet.
Characters would enter and exit the stage throughout with no obvious rhyme or reason. Some would deliver lines and then stand stock still while the next three monologues were delivered, while others would speak, leave, return, speak again and leave again in the exact same scene.
In a space the size of the Broadway Theatre, a lot of lines from the cast (especially those delivered from the back of the stage) were swallowed by the space. The whole show could take a big step forward by everyone taking a breath and projecting with confidence.
The verdict: Fingers are crossed that Rogue Souls Productions continues to produce theatre. This show might not be the strength of this year's Fringe festival, but everyone starts somewhere — and it'll be exciting to see what they take on with a bit more experience under their collective belts.
Rating: ★ ✩ ✩ ✩ ✩
– Matt Olson
***
Let It Flo
What we loved: We've found the answer to the question "can a dance show at the Fringe completely captivate an audience?" And the answer is about as emphatic a "yes" as can be managed.
The premise for "Let It Flo" is straightforward and exciting: a dance show celebrating women set to a plethora of Florence and the Machine tracks.
But don't confuse straightforward with simple. "Let It Flo" is emotional, riveting performance at its finest, and firmly one of the best of the Saskatoon Fringe Festival.
I'm not sure what age it's taught, but dancers seem to be the best at communicating with their faces. The show was fluid and expressive, and these dancers could teach the stage actors a thing or two about displaying emotion. Seamless transitions from song to song and costume to costume should not be taken for granted, either.
And the powerful voice of Florence Welch set the tone for the whole performance — a series of dances, both solos and group numbers, that really popped off the stage. In some cases that's literal, as the dancers brought their choreography down off the stage and practically into the laps of the audience.
What we didn't love: If you can't tell by the above, there's not a lot to be said here.
There were a couple instances here and there where some of the spectacular lifts and holds were slightly off their mark or ended early for balance and safety, but they come and go so fast you could convince yourself they never happened.
It would have been nice to have them on a less noisy stage than the Cosmopolitan Senior Citizens' Centre, too.
Verdict: The description for "Let It Flo" on the Fringe's website says it "can be enjoyed by the most seasoned dance connoisseurs as well as those who have no dance knowledge."
Take it from a reviewer who falls more into the latter category — this is a stellar production, and this dance company from Edmonton falls firmly into the "do not miss" list.
Rating: ★ ★ ★ ★ ✩
– Matt Olson
***
DomestiKate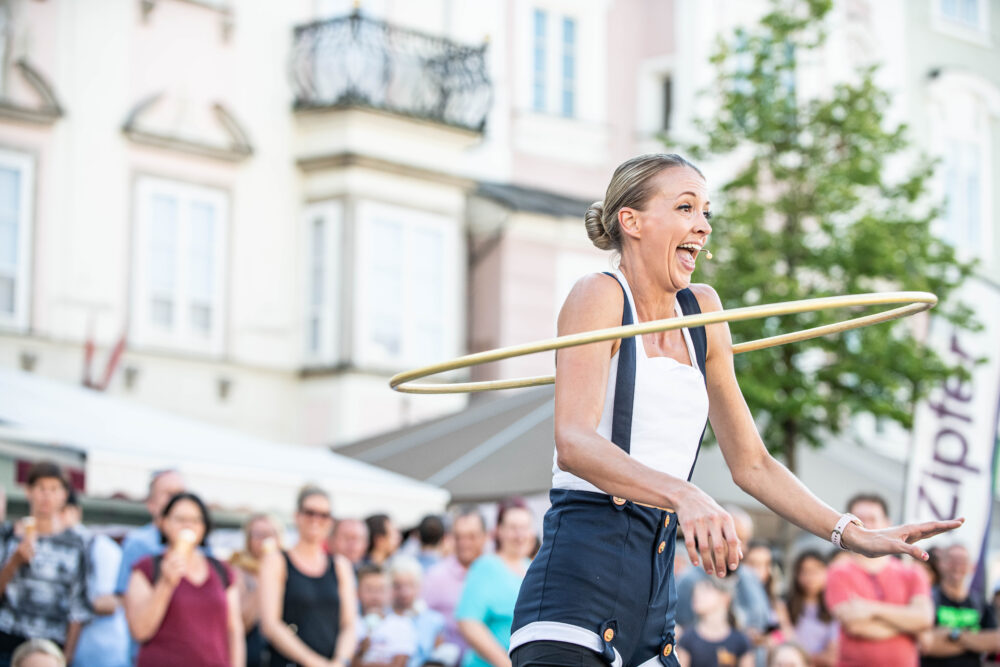 What we loved: If you could compress pure charisma into a tangible object, that would be Kate Ryan.
The acrobatic, hula-hooping, comedic, family-fun hijinks of Ryan light up the Broadway Theatre. Her show is full of jokes and feats of circus magic that appeal to all ages.
Ryan is listed as a trained circus performer, but where she truly outshines the competition is her crowd work. While I'm sure there are a limited number of people who can spin four hula hoops on their body and various limbs while perched on one foot, what really sets her apart in her acrobatic hijinks is how well she plays with and to her audience.
This is the perfect fun-for-the-whole-family Fringe show. Ryan involves children and adults alike in her theatrics, and even when presented with a slightly reticent child volunteer Ryan never lost the bright smile she carried for the entire performance.
And yes, she pulled off some quick changes and did some stunts with those hula hoops that, hours later writing this review, are still difficult to comprehend.
What we didn't love: There were a couple minor flubs in a few stunts, but they were brushed off with aplomb by Ryan.
The lighting and sound was a little strange in this one, too — Ryan occasionally being drowned out mid-line delivery by the sudden onset of loud music being chief among those oddities — but the show was solid. Ryan showed off the kind of presence that comes with years of experience, and it was impossible to not laugh at her childish antics.
Verdict: Is this the best piece of theatre at the Fringe? Maybe not. But DomestiKATE might be the best example of pure condensed entertainment you're going to find — and to use a common phrase, it's fun for children of all ages.
Rating: ★ ★ ★ ★ ★
– Matt Olson
***
Clueless in ZA
What we loved: Erik de Waal is back for another show, and the Saskatoon Fringe is happy to have him.
One of de Waal's greatest gifts is he makes it look easy, and "Clueless in ZA" is no exception. de Waal weaves a fascinating story using his younger years living in South Africa as a lens through which to view the discrimination and horrors of the apartheid there.
Despite such a difficult subject to navigate, de Waal and his calm cadence are perhaps the perfect solution. Mixing rather ridiculous stories from his youth (as a child and as a college student) with real-life experiences gives the stories a grounding in realism that helps both the drama and the humour stick a little more closely.
And when de Waal's stories have so many different characters, it's great to see him use a bit of physicality to give those characters distinct personalities in his tales.
What we didn't love: It's unfortunate to see a storyteller reuse material, but it happens in this show. It's tough to blame de Waal — when you draw your storytelling from life experiences, you're going to repeat a few stories here and there — but it was jarring to hear a couple childhood stories repeated almost word-for-word from last year's performance.
de Waal enjoys structuring his shows by jumping back and forth between time periods, but this show loses the through line more than once in those jumps. It's still stories told well — they just make for a disjointed story overall.
It might be unfair to compare this show to previous de Waal works, but last year's production had a strong central core to the story — de Waal's relationship with his father. "Clueless in ZA" feels broader and less personal, and it doesn't do the show any favours.
Verdict: It's always great to see and hear the experienced storytelling of de Waal, and even hitting the same beats doesn't diminish the quality of his talents.
"Clueless in ZA" is a thoughtful and charming story delivered by a truly skilled storyteller.
Rating: ★ ★ ★ ★ ✩
– Matt Olson
***
The Saskatoon Fringe Festival runs from August 3 to 12. Information for all shows, tickets, and the full festival program can be found at 25thstreettheatre.org/saskatoon-fringe/.